Throwback Thursday to Canada's largest card stunts at Mosaic Stadium with the Saskatchewan Roughriders.
During the September 2017 Labour Day Classic CFL football game between the Saskatchewan Roughriders and the Winnipeg Blue Bombers at Mosaic Stadium in Regina, Saskatchewan, Canada, Java Post Production was hired to capture photos and video of two massive "card stunts."
Sponsored by The Mosaic Company, each of these two stunts involved more than 30,000 separate cards, and they are the largest card stunts ever done in Canada.
Our Java Post Production cameras were positioned in the south end zone of the stadium, at the front of the main concourse level. The video above shows a few sights and sounds of that day, starting with the entrance of the Saskatchewan Roughriders.

The panoramic photo above shows the card stunt during the singing of O Canada.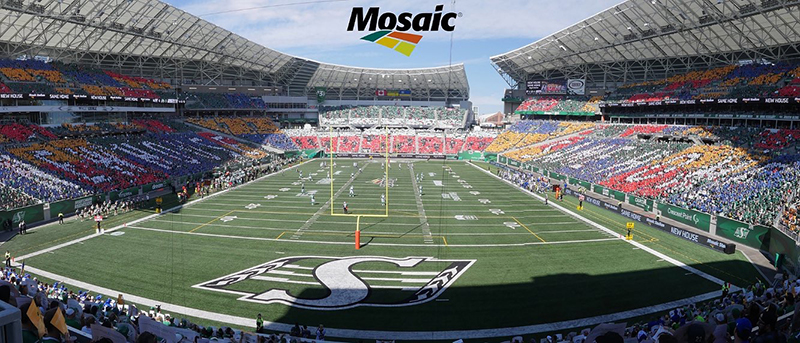 And this panoramic photo shows the card stunt just before kickoff, where the various coloured sections mimic the checkerboard colour look of the now demolished old Mosaic Stadium. The words "New House" and "Same Home" can be read on the left and right, respectively.