Taking our UAV Drone for Stroll In the Saskatchewan Woods
As we did last summer, Java Post is currently working with Phoenix Group on the latest advertising campaign for Tourism Saskatchewan.
To view the two commercials produced last year by Java Post, click HERE and then HERE.
Part of the filming this summer takes place in and around the Saskatchewan resort of Waskesiu and, while much of the filming takes place at ground level, the Java Post Aerial Photography team was also on hand to get some shots from the air.
With our DJI S900 UAV (unmanned aerial vehicle) in the foreground - one of several different UAV units flown by Java Post - our flight crew awaits launch time. To the left of the photo, one of the young members of the commercial's cast watches our UAV with interest. One of the first things you learn when you operate a UAV (or "drone," as they're often called) is that they tend to attract curious onlookers.
To bring our UAV into the woods near Boundary Bog (not far from Waskesiu, in Prince Albert National Park), our UAV pilot, Jack, used a rather unusual method: a re-purposed jogging stroller.
With our DJI S900 folded into it's transport mode and tucked into the place where a child would usually sit, the gear could be pushed instead of carried through the black spruce forest. Pushing the drone in the stroller wasn't always easy, but it sure was a lot easier than having to carry it.
The UAV control units, video monitors, batteries, and other assorted tools and accessories were also transported in a re-purposed jogging stroller. Above, our UAV camera operator and technician, Trevor, looks up to check the tree canopy high above him.
Trevor is probably considering the challenge of launching and landing a UAV in and out of a forest, where the wind can bend the tree tops, which - if you're not experienced and not very careful - can literally swat your drone out of the sky. That would not only ruin the shot, it would also run our flight crew's day. Especially Trevor's day, since he'd be the guy trying to put the drone back together.
Despite the challenges, the peaceful and beautiful black spruce forest of the Boundary Bog area is not exactly a bad place to be working. It sure beats sitting at a desk, that's for sure.
Left to right, Java Post production assistant Crystal, Trevor, and Jack all seem to be adjusting well to their forest working environment. All they're missing is a campfire and some marshmallows to toast.
But they can't sit around an imaginary campfire all day...they have to get up in the air to capture beautiful images of the Waskesiu area like this: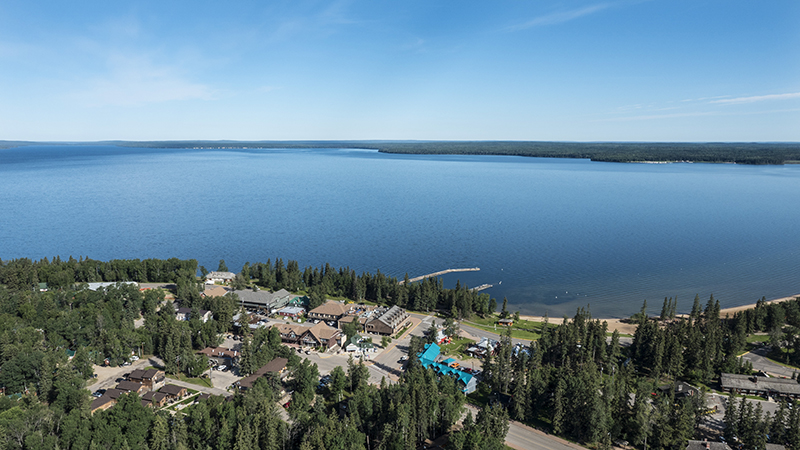 And, although it's hard to tell in this small, web-sized version, the following panoramic shot looking back over Waskesiu Lake towards the Waskesiu town site is even more spectacular. In it's full-resolution version, the panorama is comprised of several high-definition still photographs taken from our UAV, seemed together into one massive image.