New Film Grading Suite Features the Best Video Projector in the Province

Java Post, Saskatchewan's premier post-production studio, now boasts a film grading projection suite. Built around the DaVinci colour correction system, the suite features a $30k Barco projector and a screening environment that gives filmmakers the best possible tools for the job.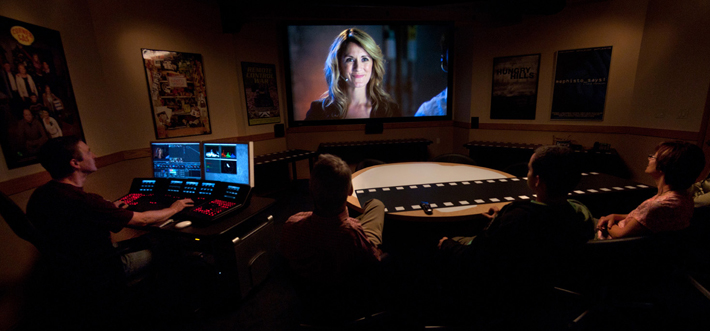 "The film finishing suite was a dream of mine," says Jack Tunnicliffe, Java Post owner and chief colourist.

Jack's dream began when he found a few leads on a projection system that would meet Java Post's rigorous standards. "I passed them on to Trevor Bennett, and he ran with it."

Trevor Bennett, Java Post's Technical Specialist, sourced the Barco projection system that, along with the DaVinci colour correction system, forms the technical heart of the suite, which was custom-renovated to accommodate the system - and Java Post's clients.

"This is the third projection system we've purchased over the years, but it's really the first that's suitable for film finishing," says Trevor Bennett. "We did a lot of testing and calibrating to ensure the projector met industry standards, and I was blown away. This projector is deadly accurate. Actually, it was frighteningly accurate right out of the box."

In addition to testing and calibrating, Trevor was responsible for installation of the projector, which included pairing it with the DaVinci colour correction system and networking it by fibre to Java's shared data storage.

"It would be tough for Java Post to have the technology we have without Trevor," says Jack. "Trevor is really a jack of all trades - and master of many. His technical know-how is really unmatched." In addition to ensuring that all of Java Post's technology is running at peak performance, Trevor also works as an on-line editor. "Finishing, checking, closed-captioning... everything required to finish the film," says Trevor.

Trained in electronics and communications technology, Trevor is also a musician who plays in three different bands. "The curse of a bass player," he jokes.

"The challenge of setting up a system like this," says Trevor, "is to make sure that it meets industry standards and runs at peak performance... but that it's also robust. Downtime is not an option for our clients."

To ensure that the system was ready for its world-class clients, Jack and Trevor worked on a few smaller projects first. "We colour corrected a few calling-card projects for some emerging Saskatchewan producers," says Jack. "And I did an episode of InSecurity in the suite, then double-checked it in our regular on-line suite on my Flanders Scientific monitors." He pauses, then smiles broadly. "I didn't need to change one shot."

Setting up the suite for both film finishing and client screenings was also a priority for Jack. "We really want our clients to feel like they are getting the best possible technology, in the best possible screening room - while they drink one of our exceptional coffees. There's nothing like this in the province."

The suite itself has the feel of a Hollywood screening room. "It's a lot like a theatrical projection set-up," says Trevor. "We've isolated the projector in a separate room and we've ensured the image isn't compromised by using 'water white' glass for our projection window - it transmits 98.9% of the visible light - and we've mounted it at a 7 degree angle to reduce reflections." Like Java Post, Trevor Bennett is known for his attention to detail.

As part of the prep for the film finishing work of a recent project, Java Post worked with Director Jennifer Lynch and DOP Shane Daly. "Shane was blown away by our facility," says Jack. "He kept saying that he'd never worked in a place like this before. This is part of our philosophy. We love to help directors and DOPs realize their vision. And we're committed to bringing together the tools - like our new film grading suite - and technical gurus - like Trevor - to make that happen."