Java Post Production focuses on new Canon CN-E Lenses.
Java Post Production will be seeing things more clearly with a new set of lenses.
Not for our glasses, but for our cameras.
We've expanded our lens collection and made a significant investment in a set of six Canon CN-E ("Cine"...get it?) Cinema Prime lenses.
Designed with optimum 4K image capture in mind, these lenses are, in the words of Canon USA:
"Canon gave a special priority to developing a family of cine primes that would eventually earn a reputation for stunning imagery and ergonomic elegance. They are designed to be on the warmer side, providing a very organic and a natural look. The CN-E Primes were designed to 4K optical performance specifications. Optically, this means they deliver a high contrast from the center of the image to the extremities, they have tightened specs on monochromatic and chromatic aberrations, and they have minimized focus breathing." - https://thecinelens.com/2014/11/21/canon-cn-e-primes-an-in-depth-look/
In other words, they're really, really nice cinema lenses.
Our new set of Canon CN-E Cinema Prime lenses consists of 14mm, 24mm, 35mm, 50mm, 85mm, and 135mm lenses. These give us a wide range of choices for creative cinematography on Java Post projects, whether shooting at ground level or in the air with Java Post Aerial Photography.
Above and below, here is how one of the new lenses looks when mounted on our RED Digital Cinema camera (with DJI remote follow focus attached).
And, just for fun while shooting a recent project, we mounted one of our new lenses on a stills camera to take a few behind the scenes photos. It's a little overkill on a stills camera, but - as you'll see below - it looks pretty darned cool.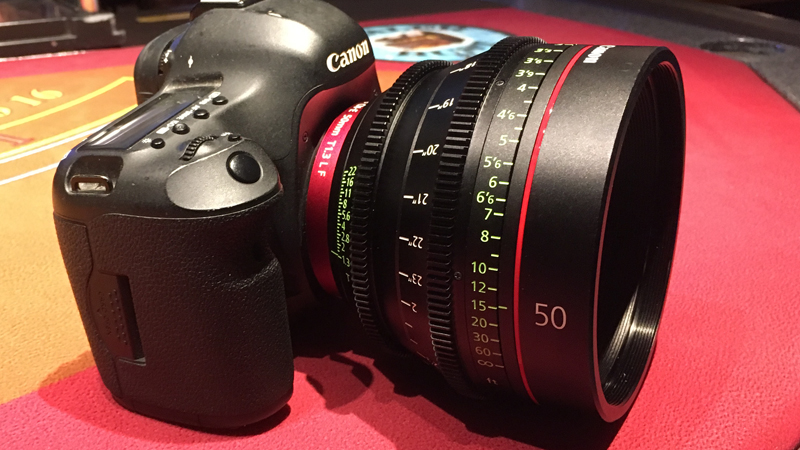 Java Post is excited to expand our lens collection with this new set of six Canon CN-E Cinema Prime lenses. We're looking forward to putting them to work on your next project with us.
To view examples of work done by Java Post Production and Java Post Aerial Photography, CLICK HERE.