Java Post goes underground for Thyssen Mining - UPDATE
UPDATED WITH NEW VIDEO LINK.
Java Post Production recently went underground at the Rabbit Lake uranium mine in northern Saskatchewan to shoot a safety video project for Thyssen Mining.
"Safety" Dave Speerbrecker, the manager of safety for Thyssen Mining, approached Java Post with this very interesting project.
Seven months ago, one of their underground mechanics, Greg Jaques, had been injured on the job. The accident involved a machine called a scoop tram, a massive piece of mining equipment. Imagine a huge bulldozer, only built longer instead of taller.
Luckily, Greg's injuries - though severe - weren't life threatening and he had made a great recovery and was slowly getting back into the groove and getting ready to go back to his work as an underground mechanic.
Thyssen Mining saw this story as an opportunity to create a teaching tool; a video about safety awareness that would be straight from the mouth of the man who was there. Told in Greg's own words...along with comments from Greg's wife...this video would tell a very personal story of how one momentary lapse in concentration affected not only Greg, but his wife and children.
It's definitely not your average boring PowerPoint safety presentation.
This project is a very good example of what can be accomplished when a good idea, an enthusiastic client and Java Post Production come together. As Rene Scheepers, the president of Thyssen Mining, says: "Remember, at the end of the day, the most important thing to come out of the mine...is the miner."
Click on the "Watch" button above to see an edited excerpt from the video.
Below are some production stills from the shoot.
Ian "@Pocketsrogers" Rogers in his natural surroundings: kneeling in a ditch, getting B-roll footage.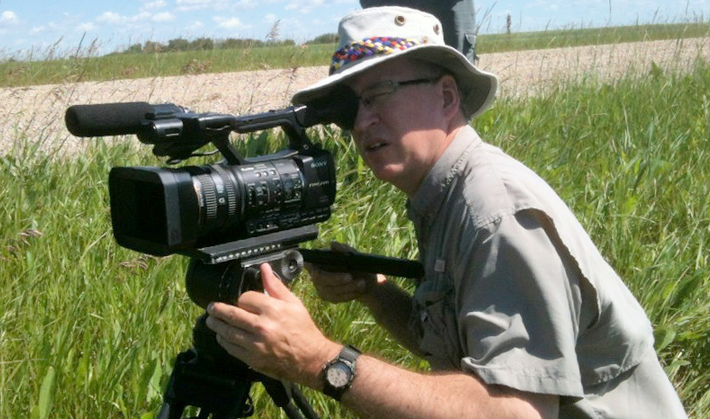 The very sweet Kreos Aviation executive plane that the folks at Thyssen Mining had arranged to haul us and our gear from Saskatoon up to (and back from) the Rabbit Lake location. Mind you, the president of Thyssen Mining, Rene Scheepers, was also flying up to the site with us so perhaps the leather-seated luxury wasn't soley for our benefit.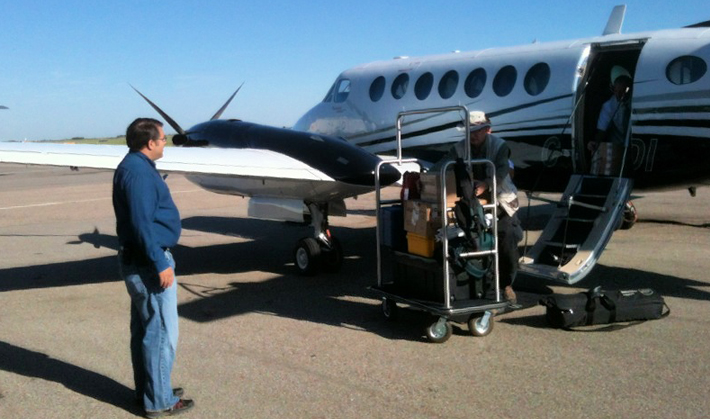 Left to right: Jason "@MagneticGuy" Delesoy and Ian Rogers. "Safety" Dave Speerbrecker of Thyssen Mining can be seen in the background. This project was Dave's idea and we're glad he chose Java Post Production to help bring it to life. And if you're wondering why we keep referring to him as "Safety" Dave, that's how people know him. His business cards and email address say "safetydave," too.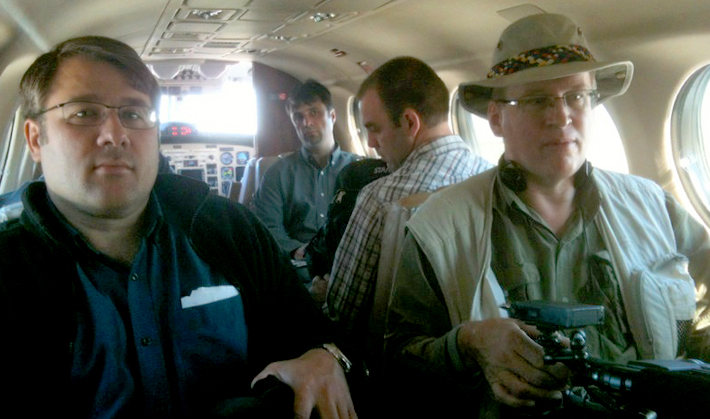 Geared up and looking like we belong there. Can you spot the surface-dwellers from the experienced miners? Hint: our overalls look like we haven't worked a day in our lives. Next time we plan on rolling around in the dirt in the parking lot, just so we don't look like soft, lazy video people. On a completely unrelated note, the Thyssen Mining crew referred to our white transport vehicles as "Pope-Mobiles."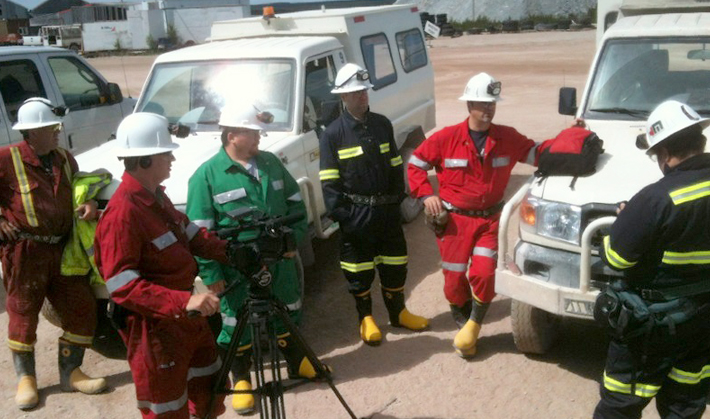 Left to right: "Safety" Dave Speerbrecker, Greg Jaques (the star of our video project) and Ian Rogers. Shooting 340 metres underground, with all of Wollaston Lake over our heads, was a completely fascinating experience. We're very grateful for all the help the Thyssen Mining workers gave to us while we were on their turf. Or under their turf, as the case may be.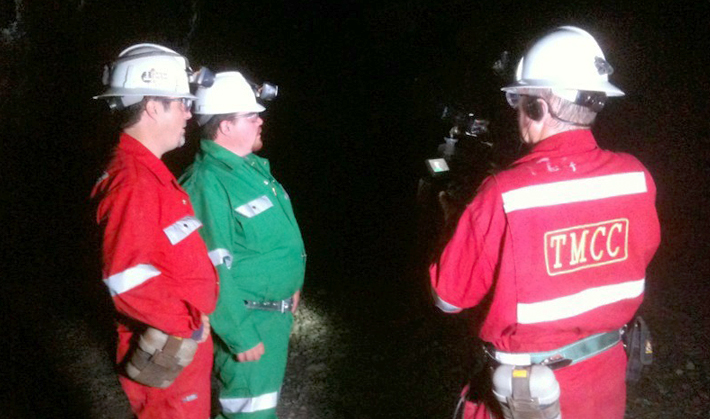 Ian captures some over-shoulder shots of Greg (in green) and "Safety" Dave (in red). The large TMCC on the back of "Safety" Dave's overalls stands for Thyssen Mining Construction Canada.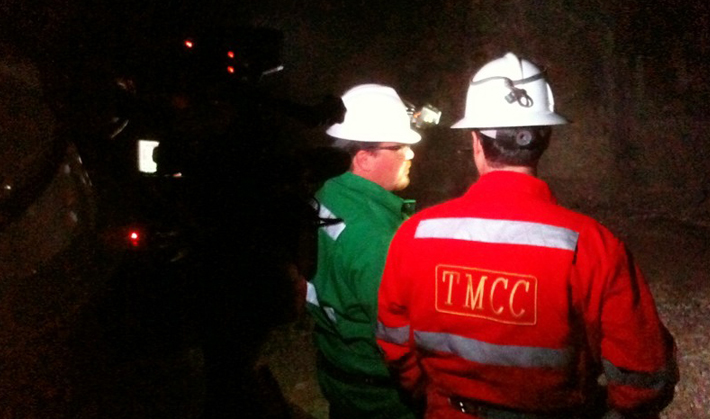 More of Greg, "Safety" Dave and Ian. The battery-powered LED lights that we took down in the mine worked like a charm, although there's nothing like a deep, hard-rock mine to swallow up light. While Ian shot with the main camera, Jason was busy hooking up Go-Pro cameras in interesting places on a massive scoop tram.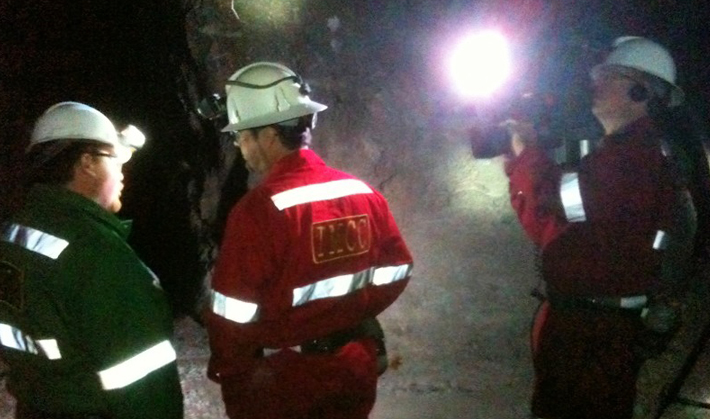 Here, in his first time back in the mine since his accident, Greg Jaques describes what was taking place just prior to him being hit by a multi-ton metal monster. We were all a little apprehensive as to what Greg's reaction would be to being back at the accident scene for the first time since the accident, but we needn't have worried. Greg said it felt just like any other day at work. He's a pretty cool guy with a great family. We're glad this particular safety story had a happy ending. We hope Greg's story will help other Thyssen Mining employees to stay safe.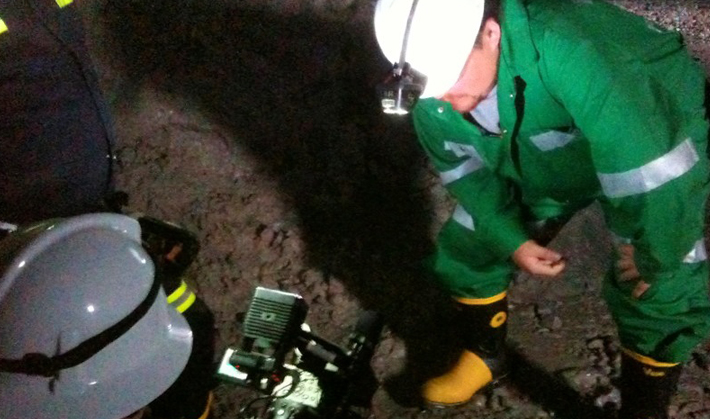 Back up on the surface, Ian shoots some haulers exiting the mine portal.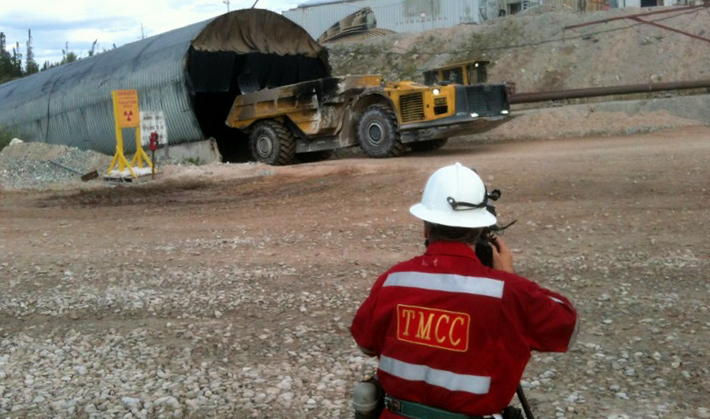 And here's one of the crew transport vehicles returning to daylight.