Java just KKKKan't get enough of 4K!
Java Post Production and Java Post Aerial Photography are pleased and excited to announce that the next evolution of digital photography is now available to all our clients: 4K Ultra HD!
Java Post has just received its new Blackmagic 4K Production Camera...and the new Panasonic Lumix 4K GH-4 Camera ordered for our "Javacopter" UAV aerial photography platform will be arriving any day.
Java Post can now offer our clients Ultra HD recording by land or by air. It's like the Java 4K Army and Java 4K Air Force. (And if we get an underwater housing, we'll have the Java 4K Navy, as well.)

"Wow," you say! "Impressive," you say! "What the heck is 4K," you ask?
At a massive 3840 x 2160 pixels, the Ultra HD 4K format is four times the size of 1920 x 1080 pixel HD, with twice the vertical and twice the horizontal resolution! It's sometimes called "Quad HD" because four entire HD images will fit inside the Ultra HD 4K picture. And that's an image that will wow any audience! Check out this comparision chart to see the difference.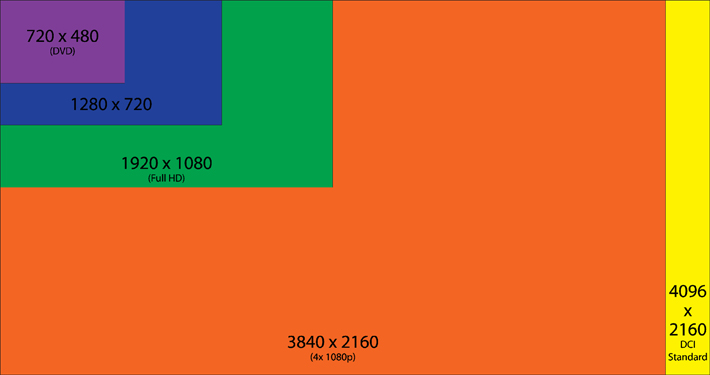 Think about that for a second. You already know and appreciate the wonderful resolution you get with 1920 x 1080 HD. Now image the image quality and resolution you'll get with Java Post Production shooting your project in 4K Ultra HD.
Already acknowledged as the next generation of broadcast television, Ultra HD 4K content is being delivered today through web video channels and digital signage installations. Java Post's 4K Blackmagic Production Camera is the perfect solution for Ultra HD 4K content creation, allowing you to shoot with the incredible sense of realism and beauty that the format offers. The Super 35 sensor provides 12 stops of dynamic range and a beautiful cinematic depth of field.
Plus, by shooting your projects in 4K now, you can "future-proof" the footage to use again when 4K television sets become prevalent. This is especially important for footage that might be used again in upcoming years, such as for tourism or archival projects.
We can all remember when HD televisions first started appearing in our homes. A lot of the programs and commercials were still in standard definition (SD) and, let's be honest, they looked like low-resolution garbage on an HD screen.
Not that my parents could tell the difference, then or now. I mean, I go over there every Sunday and, despite them having a big HD flat-screen and a full HD cable package, Mum and Dad are still watching Coronation Street (or curling or whatever) on the old SD channel. And when I switch it over to the HD signal, you'd think I'd just invented fire or something, they're so surprised at the revelation.
But I digress...
The point is that, if you start shooting your projects now in 4K Ultra HD with Java Post, you'll be ready to go when the HD television sets in everyone's homes are replaced with Ultra HD sets.
In addition, the 4K Ultra HD image is also perfect if you're working and delivering projects in HD because the image - again, four times the size of standard HD - allows you to reframe and downscale shots in editing and post-production, while still getting incredible anti-aliased HD images.
If you're working in HD you'll love the freedom to reframe and zoom into shots without any resolution loss, and, when scaling from 4K down to HD, you get incredibly smooth and clean images.
Future-proof you projects and get amazingly high-resolution images that will baffle your parents (who are still trying to figure out the difference between HD and SD).
Ask about 4K Ultra HD shooting at Java Post Production today!