It has taken months, possibly years, to develop, plan and shoot your project. Now it's "in the can" and ready for the next phase. You're looking for the perfect post-production company to treat your baby with the same loving care and attention that you've provided to bring it this far.
So, you set your sights on companies in Vancouver, Toronto, Montreal... maybe even New York and L.A.
Well, it's time to wake up and smell the coffee – the delicious, freshly brewed, dark roast aroma that gives the post-production house you should be checking out its distinctive name.
Welcome to Java Post, one of the finest editing, aerial photography and visual effects facilities in Western Canada, a place that one client calls a toy department for techies. Our impressive roster of credits includes such examples as the hit CTV sitcom Corner Gas, reality TV series Nightclub Confidential, critically acclaimed movie Hungry Hills, the Christian Slater sci-fi thriller Stranded, the talking dog comedy Step Dogs, multiple film festival award winner The Shape of Rex, sci-fi comedy Space Milkshake, the cult horror-comedy movie WolfCop, and Corner Gas: The Movie.
"Java Jack" Tunnicliffe is the hands-on head honcho at Java Post and has been described as a technical wizard with an artist's eye. He'll be happy to tell you all about the health benefits of drinking four to five pails of coffee a day, while he and his talented team tackle all your post-production needs and smooth out any bumps along the way.
Jack's philosophy has always been to surround himself with the very best, whether it's cutting-edge technology or the people at the controls. From our post-production coordinators to our editors, animators and visual FX artists, Java Post prides itself in the fact that every one of them brings their special brand of craft and creativity, experience and enthusiasm, to every single project, large or small.
Based on a foundation of humble, hard-working prairie roots, Java Post has always been an industry leader. Not only were we one of the first post facilities in Canada to offer uncompromising HD online, Dolby E encoding, HDCAM SR services, and a cinema-quality THX-calibrated colour correction and colour grading environment, we are constantly expanding our scope and expertise to develop tried-and-true workflows for the exciting new wave of camera formats, including Red, Alexa and other Ultra HD systems.
Working with 6K image files is just another example of how Java Post helps our clients reap the immense benefits of each new technology as it comes along, allowing us to preserve every precious nuance of your original image through every step of the process.
Java Post also has more than 20 years of experience in the art of colour correction, and now, with the acquisition of the Emmy-award-winning DaVinci Resolve system, we've pushed the standards even higher, employing the same digital tools used to colour correct James Cameron's blockbuster Avatar.
And if you want to take your project to the next level, the sky's the limit with Java Post Aerial Photography. Java Post is an experienced, fully certified UAV (unmanned aerial vehicle, AKA "drone") operator, currently recognized by Transport Canada with an open Special Flight Operations Certificate (SFOC) for the prairie provinces of Saskatchewan, Manitoba and Alberta. Additionally, our open permit provides Java Post with special permission to fly within the otherwise-restricted 9 kilometre airport operating radius.
Our "Javacopter" can shoot smooth-as-glass images from barely above ground level right up to the legal Transport Canada UAV altitude limit of 90 metres (295 feet), shooting either HD stills or capturing HD and Ultra HD 4K video. Java Post Aerial Photography...it's a whole new way to look at your next project.
Now to this heady brew of creative solutions, stir in the creation of complex 2D and 3D visual effects for high definition commercials and programming... dynamic multi-screen video presentations that blend motion graphics, design, lighting, and animation to create a new dimension in corporate communications and electronic advertising... the mastering of a wide variety of standard, HD and Ultra HD formats... a robotic duplicator/printer for DVD, Blu-ray and CD duplication orders large or small... and in-house HD and SD closed captioning through its sister company Vertical Sync...
...Java Post does it all!
But don't just take our word for it -- come drop by our offices and see for yourself. We'll be there with a smile, a solution, and a hot "cuppa Joe".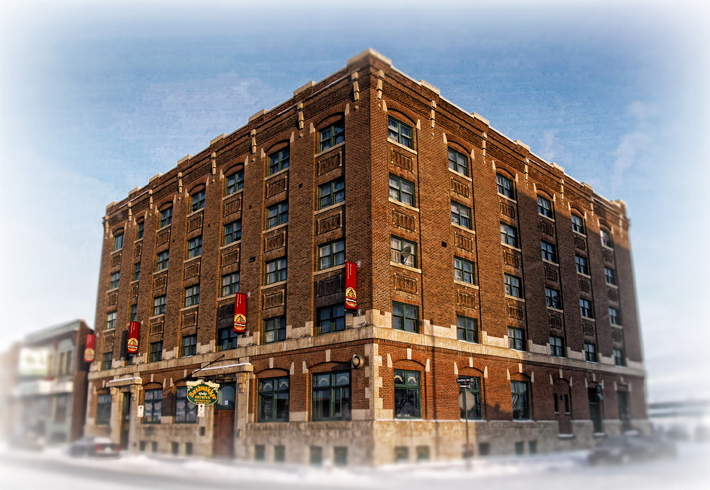 ​
Located on the fourth floor of the Strathdee building in Regina, Saskatchewan (and almost dangerously close to the delicious craft beer of The Bushwakker Brew Pub) Java Post is a full-service digital video post-production facility.
Java Post has been serving the Canadian market for more than 20 years, providing offline and online editing, cinema-quality colour correction/grading in a THX-calibrated video environment, 2D and 3D visual effects, Ultra HD aerial photography, and mastering services. Stop by for a visit, a cup of great coffee and a quick tour.
And if you pop in around 4 pm on a Friday, there could also be beer. Just sayin'.